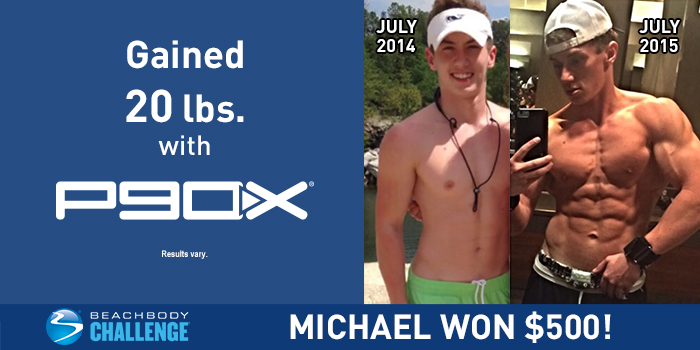 Michael D. gained 20 lbs. in one year with P90XTony Horton 10-Minute Jump Rope Workout. Read more ... ». He entered his resultsWhen Will You See Results? Plus, Answers to More of Your Top Fitness Questions. Read more ... » into The BeachbodyBrazil Butt Move: The Samba Tomato. Read more ... » Challenge, and won the $500 Daily Prize for September 14th!
Tell us about your life before you started the program. How did you feel about yourself and your body?
I was in high school at the time I started P90X and had zero confidence. I felt terrible and was always hard on myself. I played sports in school and my size always held me back, even though the talent was there, especially in football. I was already shorter than a lot of guys being only 5'8 and no matter what I did to try to gain weight and build muscleHow To Build Muscles with Proper Nutrition. Read more ... », nothing worked like P90X.
What inspired you to change your life and begin your transformationCIZE and Shakeology: Fun. Nutrition. Results.. Read more ... » journey?
My dad passed away a little before I started P90X and we always talked about doing the program together. I felt like it was my duty to complete this program for him and he was right there with me every step of the way. If that wasn't enough motivation, I always felt like I was never reaching my full potential. I always prided myself on my work ethic in sports and in the weight room with the team and in life overall. So when I wasn't building the body I know I could, I became discouraged but P90X changed that right away.
What is the greatest challenge you faced before beginning the program? How did the program and Beachbody help you overcome that challenge?
The passing of my father. We always planned on doing the program together so before we got to start, when he passed, it was pretty hard in the beginning to do it without him. But I knew it's exactly what he would want for me and I know he would be proud of the transformation I have made.
What in particular did you like about the program you chose?
Everything is detailed in a specific plan. You don't have to wonder if the program is going to work. As long as you push play and bring it everyday while following the diet10 Things Everyone Has Thought About at Least Once During Yoga. Read more ... », results are going to come and you just have to keep believing that in the beginning.
Describe the results you achieved with your Beachbody program. Which achievements are you proud of?
My body completely transformed. I ended up doing P90X four rounds and now I look like a different person people tell me. I am much stronger and I graduated this past year being one of the biggest guys in my school, if not the biggest — which two years ago would be crazy thinking about.
How has your life changed since completing your Beachbody program?
My confidence has increased dramatically. I feel so much better about myself than I did before. I go through life with a certain energy3 Day Refresh and Shakeology: Break Bad Habits. See Success.. Read more ... » now excited for the day and the next workout, and overall I'm just a much happier person. I feel so much healthier and my energy is through the roof. Beachbody completely changed my life inside and out.
You can change your life, too. Take the Beachbody Challenge for the tools you need to Decide, Commit, and Succeed! Complete any Beachbody program, and enter your results for a free gift and a chance to win cash and prizes.

Share and Enjoy
Google+